The Vale Academy is situated in the small market town of Brigg in North Lincolnshire. We are a successful and high-achieving school. We have an excellent reputation and an established trend of high student outcomes which are consistently above those achieved nationally. In January 2017, we moved into our new building which provides state of the art facilities and an outstanding learning environment for our students and staff.
These new facilities will enhance our excellent teaching and learning still further and will contribute to our drive for on-going success.
The academy is extremely popular and, although we take most of our students from Brigg and the surrounding towns and villages, a large number of families from outside the catchment area also select The Vale as their secondary school of choice. Indeed, many students are prepared to travel some distance to access the high quality education we offer.
The change to academy status in 2011 has brought with it many advantages, not least of which is the opportunity to be part of the Delta Academies Trust. This is an educational charity whose ethos is based on four founding principles which match our own: Quality, Partnership, Aspiration and Responsibility.
At The Vale Academy, we pursue excellence for our students within all areas of their lives. We expect them to aspire to be the best that they can be and to achieve the highest possible academic standards. We also expect our students to develop into caring and considerate young people, who will leave the academy to become responsible citizens and make a valuable contribution to society. Indeed, we are justly proud of our students' positive attitudes and outstanding behaviour.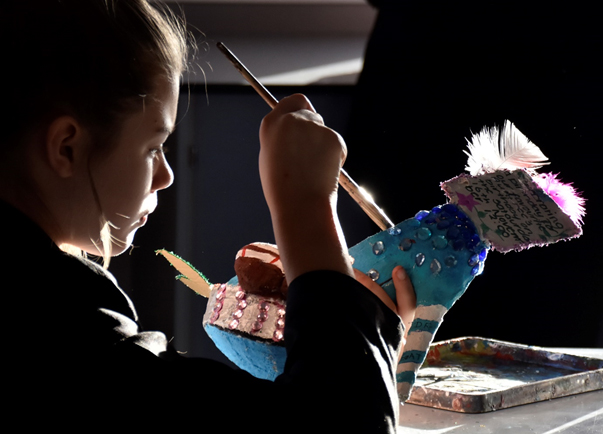 In addition, we believe strongly in developing "the whole person". Towards this end, we offer an extensive and varied programme of extra-curricular activities to support a rich and rounded education both within and beyond the classroom. Our values and ethos are summed up in "The Vale Way" which underpins everything we do in the academy. Full details can be found in the student section of the website. We hope that you will take time to read our prospectus and our termly magazine, "Vale Views", which will make you aware of just how much is on offer to our students.
This is an extremely exciting time for The Vale. If you would like to visit us, please feel free to contact reception to make an appointment. We will be pleased to meet with you and show you around, so that you can experience first-hand our excellent academy.